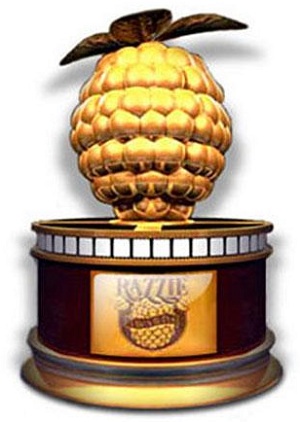 Leider übersieht man sie immer wieder jedes Jahr. Die RAZZIE-AWARDS, die 1980 als notwendiger Gegenpol zu den unüberschaubaren Preisverleihungen ins Leben gerufen wurden. Nicht in irgendeinem hochtrabenden Ballsaal, sondern im Continental Breakfast Room des Holiday Inn wurden sie nun im Schatten der Oscars erneut verliehen.
Die 657 Stimmberechtigten aus 47 US- Staaten und 19 anderen Ländern scheinen keine Sympathie für den abschließenden Teil der TWILIGHT-SAGA gehegt zu haben. Von elf Nominierungen konnte BREAKING DAWN #2 immerhin 7 Preise holen. Das liegt nur knapp hinter Adam Sandlers JILL & JACK, der im vorangegangenen Jahr in allen Kategorien gewonnen hat. Dafür hat Adam Sandler im zweiten Jahr in Folge den Schlechtesten Hauptdarsteller bekommen.
Besonders witzig sind die Razzies immer dann, wenn sie Nominierungen oder Gewinner haben, die auch hoch auf Oscar-Kurs laufen, was dieses Jahr leider ausblieb. Besondere Vorfälle gab es keine. Zuletzt hatte 2009 Sandra Bullock ihre Auszeichnung als "Schlechteste Hauptdarstellerin" für ALL ABOUT STEVE persönlich entgegengenommen. Ein atemberaubender Auftritt.
SCHLECHTESTER FILM
Battleship
Oogieloves in the Big Balloon Adventure
That's My Boy!
A Thousand Words
Twilight Saga: Breaking Dawn Part 2
SCHLECHTESTE HAUPTDARSTELLERIN
Katherine Heigl – One For The Money
Milla Jovovich – Resident Evil #5: Retribution
Tyler Perry (In Drag) – Madea's Witless Protection
Kristen Stewart – Snow White and The Huntsman & Twilight S.B.D. #2
Barbra Streisand – Guilt Trip
SCHLECHTETSTER HAUPTDARSTELLER
Nicolas Cage – Ghost Rider 2: Spirit of Vengeance & Seeking Justice
Eddie Murphy – A Thousand Words
Robert Pattinson -Twilight S.B.D. #2
Tyler Perry (Not in Drag) – Alex Cross & Tyler Perry's Good Deeds
Adam Sandler – That's My Boy!
SCHLECHTESTE NEBENDARSTELLERIN
Jessica Biel – Playing For Keeps & Total Recall
Brooklyn Decker – Battleship & What To Expect When You're Expecting
Ashley Green – Twilight S.B.D. #2
Jennifer Lopez – What to Expect When You're Expecting
Rihanna – Battleship
SCHLECHTESTER NEBENDARSTELLER
David Hasselhoff (as "Himself") – Pirannha 3-DD
Taylor Lautner – Twilight S.B.D. #2
Liam Neeson – Battleship & Wrath of the Titans
Nick Swardson – That's My Boy
Vanilla Ice (as "Himself") – That's My Boy
SCHLECHTESTE REGIE
Sean Anders – That's My Boy
Peter Berg – Battleship
Bill Condon – Twilight S.B.D. #2
Tyler Perry – Good Deeds & Madea's Witless Protection
John Putch – ATLAS SHRUGGED: PART II
SCHLECHTESTE FILMPAARUNG
Any Combination of Two Cast Members from "Jersey Shore"
The Three Stooges
Mackenzie Foy  & Taylor Lautner – Twilight: S.B.D. #2
Robert Pattinson & Kristen Stewart – Twilight: S.B.D. #2
Tyler Perry & His Drag Get-Up – Tyler Perry's Madea's Witless Protection
Adam Sandler mit Leighton Meester, Andy Samberg oder Susan Sarandon – That's My Boy
SCHLECHTESTES FILMENSEMBLE
The Entire Cast of – Battleship
The Entire Cast of – Oogieloves inThe Big Balloon Adventure
The Entire Cast of – That's My Boy
The Entire Cast of – Twilight Saga Breaking Dawn, Part 2
The Entire Cast of – Madea's Witless Protection
SCHLECHTESTES DREHBUCH
Atlas Shrugged: Part II
Battleship
That's My Boy! – David Caspe
A Thousand Words
Twilight S.B.D. #2
SCHLECHTESTES REMAKE, SEQUEL oder PLAGIAT
Ghostrider 2: Spirit of Vengeance
Piranha 3-DD
Red Dawn
Twilight Saga: Breaking Dawn Part 2
Tyler Perry's Madea's Witless Protection